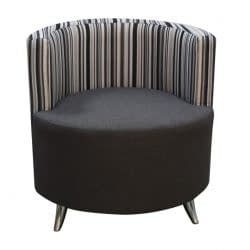 Reception Furniture For Melbourne
A company's waiting room, lobby & visitor chairs are one of the most important elements of the building, as this is the place where customers or potential associates wait for meetings, consultations or purchases – all the while making their first impressions on your business. Without quality waiting room chairs, businesses can be creating a bad outward impression, or not providing proper accessibility to the elderly or anyone that needs to sit while they wait.
Our range of waiting room, lobby & visitor chairs gives businesses a wide range of aesthetic options while maintaining competitive prices for individual or bulk orders. Whether it's for chairs, lounges, ottomans or modular seating arrangements, Prodigy Office furniture provides the reception seating businesses can rely on.
At Prodigy Office Furniture we have a range of contemporary and stylish reception chairs, businesses can use to perfectly compliment any interior, and ultimately create a positive image for your company.
When it comes to waiting room furniture, Melbourne businesses should be mindful of the impression bad furniture can leave to customers, associates or anyone visiting your premises. Having to wait is a necessary part of any business, but it is not something people particularly enjoy. Unless you are creating a pleasurable and comfortable ambience to wait in with quality waiting room furniture & chairs, customers can become frustrated with your business and may view you in a worse light. With comfortable waiting room furniture, customers can enjoy themselves and relax while they wait. It is a simple part of office design that makes all the difference.
Our commercial furniture services and solutions are not only versatile and functional, they are also made to enhance the design and aesthetic appeal of your office, transforming into a modern and contemporary space that will impress prospective clients from the moment they walk through the door. That is just one of the reasons why we are the go-to name for professional office furniture and chairs throughout Victoria and right around Australia.
To speak to someone about Prodigy's range of chairs and furniture for the lobby area, businesses can reach us on 03 9793 1222.